The network formiddle-marketdealmakers.
The Smart Business Dealmakers Network is an exclusive online community of 5,000+ entrepreneurs, investors and advisers actively involved in middle-market M&A.
Membership gives you the ability to make connections and discover opportunities beyond your usual network.
Already a Member? SIGN IN
APPLY TODAY
MEET THE DEALMAKERS
The Dealmakers Network directory includes more than 5,000 top dealmakers from across the Smart Business Dealmakers Conference series, including the entrepreneurs, investors and M&A advisers involved in some of the biggest deals in our local markets.
BUILD YOUR NETWORK
Our Network Matchmaking Tool (requires Gold Membership) matches your experience, interests and needs with those of hundreds of other members of the network. See someone you would like to connect with? Reach out to them directly or through the Network.
MEMBER BENEFITS
There are two membership levels in the Smart Business Dealmakers Network.
Everyone admitted to the Network has complimentary access to the Silver Membership level.
SILVER MEMBERSHIP
Access to our Dealmakers Network Directory with 5,000+ members, including top entrepreneurs, investors & advisors in our Dealmakers markets and beyond. New members will be admitted on an ongoing basis. Complimentary Silver Membership is reserved for participants in our Smart Business Dealmakers Conference.
GOLD MEMBERSHIP
Access to our Dealmakers Network Directory
Access to enhanced profile listings, including contact information and M&A experience
Access to the Network Matchmaking Tool that matches members to your networking needs
MEMBER DIRECTORY
Our Member Directory currently has more than 5,000 top dealmakers and growing. To access detailed information on each one and to use our Matchmaking Tool to find the right partner for your next M&A engagement, upgrade to Gold Membership.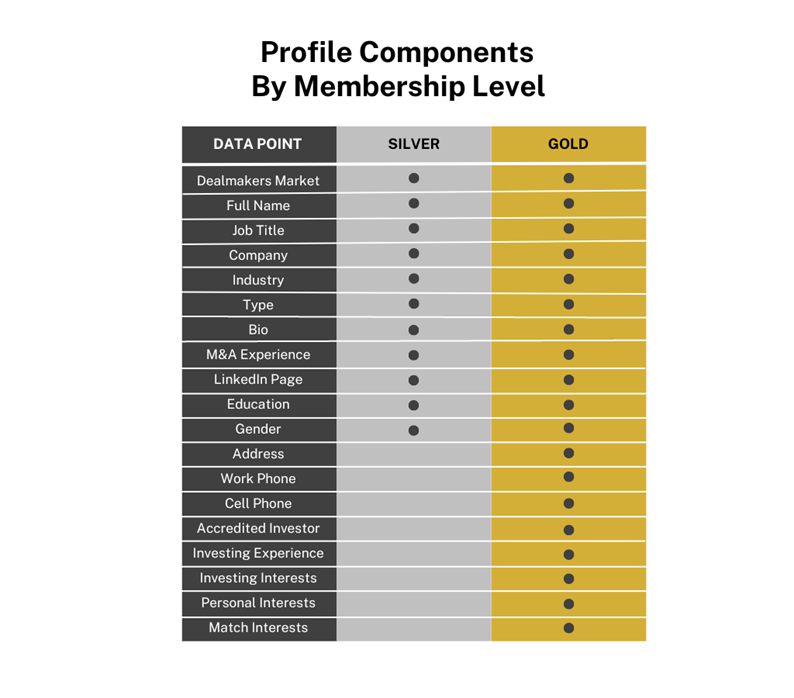 Note: All fields may not be complete for some members.