About Smart Business Dealmakers
Smart Business Dealmakers was created by the Smart Business Dealmakers Institute to serve as a resource for news, insights and networking for CEOs of middle-market companies and their advisers in local markets across the country. As a result, we are building the largest network of middle-market CEOs engaged in M&A activity.
News & Insights
Our website covers all aspects of middle-market M&A – from the investors putting up the capital to the CEOs closing the biggest deals to the advisers who get the deals done.
Breaking deal news
Interviews with top local dealmakers
Insights into a wide range of M&A issues, including raising capital, buying and selling businesses, liquidity events and business integration.
Updates on developments with early-stage companies and accelerators.
Subscribe to our weekly Smart Business Dealmakers email newsletters to keep up to date in one, quick-reading report.
Submit dealmaking news to [email protected].
Conferences
Every year, the Smart Business Dealmakers Conference (formerly ASPIRE) connects thousands of local dealmakers — including middle-market CEOs, top PE and VC firms, major lenders and leading service providers — for a day of dynamic content and networking in top U.S. business markets.
With sessions ranging from raising capital to buying and selling companies to planning for a liquidity event, our conferences cover the breadth of the M&A landscape.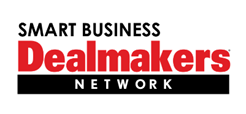 Smart Business Dealmakers Network
The Smart Business Dealmakers Network is a membership organization that networks high net worth individuals, investors and deal advisers. Through its online platform, it alerts members to deal opportunities on a local and national basis.

Smart Business Dealmakers Institute
The Smart Business Dealmakers Institute is the nation's leading M&A education organization for middle-market business owners and executives.
Through online content and in-person events we share best practices for selling or buying a company, raising capital and planning for liquidity events with thousands of middle-market CEOs, M&A advisers and finance professionals.