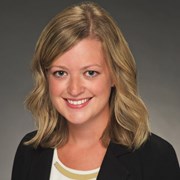 Huron Capital Vice President Danielle Lalli was selected as one of 10 rising stars in private equity by Mergers & Acquisitions, a magazine and website that tracks the M&A industry.
"[Lalli] has quickly become a stand-out member of the firm's execution team," the magazine said of her selection. "She holds the title as the most active vice president in terms of closing add-on acquisitions for the portfolio. In her two years at the firm, Lalli has closed 10 add-on acquisitions for two different platform companies and has two more under letter of intent. Lalli is also the first female execution hire at Huron."
Prior to joining Huron Capital, Lalli was a private equity investment associate at American Securities and an investment banking analyst for UBS in the Power & Utilities group.