C.J. Handron remembers scrambling to show sensors to anyone who would listen — equipment manufacturers, Dick's Sporting Goods, individual baseball teams — even though the product wasn't quite functioning.
"You've got to take these opportunities as you get them, even though you wish you had one more week or one more month," says Handron, CEO of Pittsburgh-based Diamond Kinetics.
Four or five years later, many of those conversations have led to relationships. In fact, the company's sensors — which a player can twist and lock into the handle of smart bats made by 17 different wood bat manufacturers — will be used in every level of the minor leagues this summer.
We talked with Handron about how he brought Diamond Kinetics from the lab to the ball diamond with the help of Pittsburgh's early-stage community.
Emerging technology in an emerging market
Diamond Kinetics spun out of the University of Michigan and the University of Pittsburgh in mid-2013 with a portfolio of sensor technologies that could track motion data to provide detailed analytics.
Handron, who ran a technology commercialization accelerator and incubator at Pitt, used his role to find a company he could help build. He found one in the work of co-founder William W. Clark, Ph.D., a Pitt professor of mechanical engineering and materials science whose research focus included sensors, actuators and smart materials.
However, he didn't expect this plan to tie into his passion for baseball.
"I feel like I owe a lot of really important things in life to baseball, whether it's my closest friends, teamwork and leadership skills, (or) things that I learned playing the game," he says. "The opportunity to step in and grow something where I felt like I could have a positive impact on the game and do something every day that I was really excited and passionate about was tremendous."
During the first funding round, the company raised eyebrows because people weren't thinking of sports technology as a high-growth tech investor category. "Early on in this we were definitely one of the first companies to step out and try to raise money as a sports tech company," Handron says.
"Probably six or nine months later, it started being more written about," he adds. "There were funds coming together. There were companies starting to raise some pretty significant capital in sports and tech, and from that point forward, people really started to look at the space and category as a real opportunity."
Through four rounds of early-stage fundraising, the majority of Diamond Kinetics' capital has come from angel investors and family offices, Handron says. Many of this small group of investors are sports oriented, such as Pittsburgh Pirates Principal Owner and Chairman Bob Nutting and former Pittsburgh Steeler Troy Polamalu.
In February, Diamond Kinetics went through its first institutional investment round, led by Philadelphia's SeventySix Capital. The venture capital fund — which includes former Philadelphia Phillies first baseman Ryan Howard as an investor — is one of the growing number of funds specifically organized around sports and technology.
"We've raised relatively small amounts of capital in short bursts in a milestone-based approach," Handron says. "I think that's worked well for us and we're now beginning to explore what we think that that next step and stage will look like."
Targeting its customers
The company, which targets the 12 million amateur baseball and softball players in the U.S., recently grew its workforce to 25 people, with employees in six states.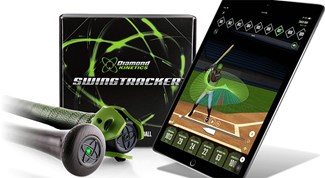 Diamond Kinetics' tech-enabled products, including the SwingTracker sensors and PitchTracker 'smart' balls, are used by some of the biggest names in baseball. But it was challenging to educate people and change habits when introducing a new technology.
"This was not an incremental improvement on an existing technology or something that was there already and this is just a better way to do it," Handron says. "It's all brand-new and certainly that's been challenging. I think we've made tremendous progress in that area but we still have a long way to go."
Thinking in bite-sized chunks with specific milestones helped turn a big idea into reality, whether fundraising, product developing or building a team, he says.
The company took a grassroots, bottom-up sales and marketing strategy, aligning itself with a range of partners in the amateur space, such as Perfect Game, Marucci, Ripken Baseball, Babe Ruth League and top collegiate baseball and softball teams, Handron says. It also has an ambassador relationship with Sierra Romero, one of the world's top softball players.
"We knew one of the very, very unique things about our technology is its price point and its accessibility," he says. "So we really never targeted the professional market guys. I'm not sure that we've ever directly reached out to an MLB team."
For example, Diamond Kinetics' partnership with Marucci resulted in a product promotion with Anthony Rizzo of the Chicago Cubs.
Which is not to say that MLB teams aren't using Diamond Kinetics' products for things like batting practice.
"Anybody that we work with has reached out to us or has been introduced along the way, and we value those relationships immensely as we learn a tremendous amount from it," he says. "We think of them more as partners than customers, and they help us shape where we think the product can and should go for the younger player, for the amateur market."
As for what's next, Handron says Diamond Kinetics has great physical sensor products. Now, it's focused on making the data it collects more easily used by players and coaches. The company will continue to develop instructional content and tools to make the app and software experience more dynamic.