Vertical farming is capital intensive, which is why Fifth Season co-founder and CEO Austin Webb is relying on his financial analyst and investment banking background to help manage the startup's funding.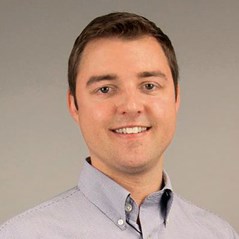 "We have done a great job to date in terms of being really capital efficient, but it's capital-intensive nonetheless," he says. "Institutional capital is how we've been able to get the funding we need to keep making progress, day in and day out."
Fifth Season is the new name for the indoor farming company's consumer-facing business, while its original name RoBotany lives on with its internal robotic technology.
After proving its technology with prototype farms, Fifth Season announced plans for its first commercial-scale indoor vertical farm, which will be built from the ground up and open in early 2020 in Braddock.
The company — incubated at Carnegie Mellon University's Swartz Center for Entrepreneurship — has raised over $35 million to date led by Drive Capital and other private investors with close ties to CMU.
Building the platform
Fifth Season was launched in 2016, but Webb was hit by entrepreneurial fever several years earlier. As an investment banker, he worked with C-suite executives to raise capital or sell their businesses in the Washington, D.C., area. A large capital raise with the former co-founder of NexTel was the final straw that pushed him to want to start his own company.
The dream became a reality when Webb went to CMU for his MBA.
Today, Fifth Season has built a system that uses robotics, artificial intelligence and smart operations technology to make vertical farming an economic reality, Webb says. It incorporates 40 bots in one robotic system that stretches from seed to harvest to package to destination.
In traditional vertical farming, he says, labor adds up to 40 to 60 percent of the total cost.
"We've taken that down all the way to around 20 percent, and there's still more to go," Webb says. "Part of that isn't just thinking of less labor, it's more efficient labor. Instead of someone going up to a rack 30 feet on a scissor lift, we have a robotic system that allows us to do that."
The company grows leafy greens and herbs. In terms of volume, it sells the most product through retail channels but has an omni-channel approach. Because Fifth Season found its product market fit early, it has focused on execution — making the platform one that can deliver consistently and at scale.
Dollars and sense
Vertical farming includes a lot of VC dollars that are used to subsidize operations, Webb says.
"Obviously that has to change for the viability of the industry moving forward," he says.
Fifth Season leases equipment — one financial strategy — but it hopes to get payback periods, from an equity standpoint, down to less than two years, Webb says. By being profitable, it will then be able to leverage traditional debt financing and only use venture capital dollars for growth capital, instead of hard costs.
"Yes, (vertical farming) is capital intensive, but if used in a smart way, you can get good returns and good payback periods that are an order of magnitude greater than even the traditional greenhouse, for example," Webb says.
Once the Braddock farm is in place, the company, which has 30 employees, should double its workforce.
The plans call for the farm to produce more than 500,000 pounds of lettuce, spinach, kale, arugula and herbs from its 25,000-square-foot grow room during the first full year of operation. The partially solar-powered facility requires 95 percent less water compared to traditional growing operations.
Then, the next step will be repeatability and scaling to other cities.