When Cameron Mitchell Restaurants first started seriously exploring the idea of doing a food hall three years ago, the trend hadn't taken off yet.
Steve Weis, CMR director of development, says food halls are the hot craze now, but they often describe different things under the same name. In fact, many food halls are just real estate deals.
Budd Dairy Food Hall, which CMR plans to open by late summer, is more of a community asset for aspiring restaurateurs.
"We just really loved the ability to try to help find, in Cameron's view, the next Cameron Mitchell," Weis says, noting that celebrated the restaurateur faced his own challenges on his path to success. "A lot of people had to give him a hand when he was starting out 25 years ago. He looks back on that fondly."
Lifting up others
Food halls allow diners to actively engage in the food experience, and they provide a true launchpad for innovation, CMR President David Miller says.
"Budd Dairy Food Hall will be an incredible community asset to Italian Village and the region, because it will support and encourage the growth and development of entrepreneurs and up-and-coming restaurateurs," Miller says. "That really gets us excited about this project. "Columbus has always embraced our company and it was important for us to make the investment in future restaurateurs."
Helping chefs grow their concepts and build their businesses is something CMR Founder and CEO Cameron Mitchell has been doing informally for 25 years.
"I can't tell you the amount of restaurant operators, single unit, dreamers, whatever, that come through our office on an almost weekly basis because they've asked if they could get a meeting with him, and he gives them 15 minutes or a half hour of his time," Weis says.
In many ways, it lifts up CMR's competition — but Weis says, 'Why not?'
"There are so many talented people out there that don't ever get a chance," he says. "We see it more as we're raising the quality for the whole community."
Nailing the details
Budd Dairy Food Hall, which is located in a historic building and former milk processing plant, will have 10 retail spaces. Eight of those will host chef partners, who will cycle out every few years. The other spots will be a pop-up space featuring new chefs every couple of weeks and a small retail space for baked goods that will rotate, as well.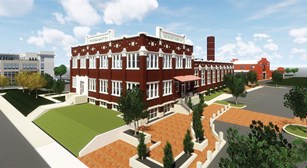 Real Estate Developer Kevin Lykens, who owns the property, is partnering with CMR to redevelop the four-story building. CMR, which currently operates 37 restaurants under 16 different concepts, will operate the hospitality side with the goal of highlighting quality food and quality people.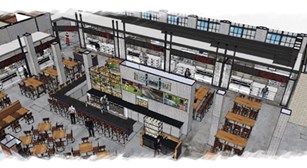 Weis says the final product will be unlike many food halls, which operate autonomously like a mall food court. "You're going to get a very different experience walking into ours because you're going to be greeted with Cameron Mitchell hospitality."
Tryouts, Shark Tank style
CMR had more than 100 applicants for the eight chef partner spots, Weis says. Over a period of six months, 12 managers tasted the food to narrow the pool to 15. Then, the final group went through a Shark Tank tryout where chefs cooked their food and pitched their concepts.
"At the end of the two days, we narrowed it down to eight," he says.
Some of the people who didn't make the cut will come through the pop-up space. However, CMR's focus is on the eight chef partners and helping them grow from daily restaurant operators into experienced restaurateurs who can attract and secure investors.
"Part of what we'll be doing is working with those chef partners to develop their business plans and to grow their business throughout the course of the year, as they're learning about what works, what doesn't work, what's selling, what doesn't sell," Weis says.
"What we're hoping is that those eight, after a year or so of operations, will be able to sit in front of some potential investors and pitch their story, their history of what they've done. They could potentially match up with people to go out and grow beyond that."
Weis's current priority is shaping how CMR will provide ongoing professional development in areas such as workers' compensation, U.S. Small Business Administration loans, etc. The task of bringing in local investors will come later.  
"It's a ways off before we'll get to that moment, but I think there will be a lot of interest to have people who are interested in potentially investing in a restaurant that has now some proven base of business and a real plan," he says. "Hopefully, they're more educated and sounder than when they started with us."
Cameron Mitchell already offers friendly advice to almost anybody in town. The food hall simply provides a more formal path for CMR to leverage its strong operating base for helping others. "Honestly that was the biggest driving factor in saying yes to doing this project," Weis says. "This could be an awesome way to for us to give back, and be fun and interesting for the community at the same time. It's a win-win."