Bob Serpentini and Ken Ganley are always ready to make a deal, and their recent acquisition of three Pat O'Brien Chevrolet dealerships is a perfect example of the duo's go-big-or-go-home mentality.
"We're walking out of the attorney's office as we were working on the deal and Kenny looked at me and said, 'I'll say one thing about you. You don't think small,'" Serpentini says. "When we looked at this O'Brien deal, it was just compelling for me. I was literally sitting in my car and I kept thinking about the deal and that we should take a run at it. It fits us."
Serpentini and Ganley partnered to buy Pat O'Brien dealerships in Medina, Westlake and Willoughby; the acquisition makes Serpentini Chevrolet — which operates dealerships throughout Northeast Ohio — the largest Chevy dealership group in Ohio and one of the largest in the country. Pat O'Brien will retain ownership of its Vermillion dealership.
"We're not real good lookers because, when we start looking, it usually ends up in a deal," says Ganley, president of Ganley Auto Group.
Dealmakers caught up with Serpentini and Ganley to talk about their approach to dealmaking and the value they have gained through working together.
---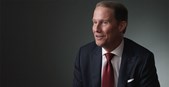 Dealmakers Live: Ken Ganley talks about the value that experience can bring to dealmaking and his fondness for taking on challenges when making an acquisition.
---
Partner up
Serpentini got the idea to partner with Ganley in 2009 as Serpentini was preparing to sell his Aurora dealership. The global recession had taken hold, and Serpentini, like so many other business owners, was considering how best to respond to what was happening in the market.
"General Motors was having a tough time, and we were struggling a little bit," Serpentini says. "So in the process of selling the store, I said to Kenny, 'Look, I'm in the middle of some things. Why don't you become a partner with me in Strongsville?' That's really the genesis moment when we became partners, and after that, we continued to do some other things together."
Last October, Serpentini kept hearing rumors that Pat O'Brien was thinking about getting out of the car business.
"Luckily, Pat and I have a fabulous relationship," Serpentini says. "We sat down one day, and in a matter of about three hours, we worked it all out and hammered out an agreement. Before I did that, of course, I talked to Kenny. We got some numbers, did some projections and we agreed it would be a great opportunity for both of us."
With the O'Brien deal, Serpentini and Ganley collectively have about 2,500 employees and more than 40 dealership locations. They both continue to run their own separate companies, and not every dealership falls under the partnership. But they're always looking for new opportunities to work together.
"Economies of scale play a big role for us," Ganley says. "There are various things we can do that that most dealers can't. As you continue to grow your business, that's a big advantage. There's a lot of ways where we can come in and immediately lower the overhead, while at the same time trying to sell more cars."
Cash flow is a priority
Deals typically succeed or fail based on structure, Serpentini says.
"People talk about profit all the time, but they don't always think about cash flow," he says. "You can have a profitable business but not be generating positive cash flow, and you go broke. That's not uncommon. One of the things that Kenny and I talk about at length is not only the profitability of the business, but what does it look like on a cash flow basis?"
At the end of the day, it's not looking at what the profit is on the financial statement, he says.
"It's, 'Did I end up with more money in the bank than I started with?'" he says. "That's a structure thing. You could still do a lot of business and not do well because you didn't structure the deal correctly."
Respect is another important part of dealmaking.
"You don't ever want to underestimate the guy that you're buying and their abilities," Serpentini says. "You don't ever want to think, 'Oh I'm way better than him.' You look for opportunities. Numbers don't lie. So if you see certain things that you know can be fixed, OK, that's fine.'"
On the flip side, he says it's important to have humility and be honest with yourself.
"You never want to overestimate your abilities," he says. "We can always find a way to mess it up. You have to take the ego out of it and look at the opportunity. Truthfully, most of the time, you don't get to buy a deal unless there's a decent amount of risk. You just hope there's a lot of upside."
As they looked at the O'Brien deal, everything added up, Ganley says.
"We look at past performance, but we don't base our decision on past performance," Ganley says. "We base our decision on our gut and on what we're going to be able to do. The final piece is personnel. Do we have the right people to put in the right place? With Pat O'Brien, all of the boxes were checked yes. The locations were perfect for us, the people, we were ready to go there, and the brand was the right brand. So everything made sense."
Related: Ken Ganley Drives Toward $2 Billion